Gospel Music Cruise to Mexico,
Robin and Kim have had the opportunity to minister more than once on Christian Cruises! Each time the entire ship was chartered for a whole week! The bars, casinos and slot machines were closed and the ship's entertainers are replaced by Preachers and Gospel Singers! There were daily Bible sessions and Gospel Concerts each day and evening while sailing to the Bahamas and Mexico!!! Here's some photos of one of the Cruises they ministered on.
(Please Maximize your screen to fully view the photos.)
The Carnival Ship we sailed on. Kim and Robin on board.
Mexico's turquoise waters. Arriving in Playa Del Carmen, Mexico.
Robin and Kim On the Dock. Taking a break from sightseeing.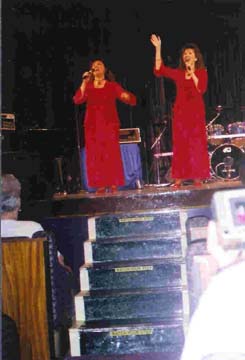 In Concert as the Ship Cruises to Cozumel and Playa del Carmen, Mexico!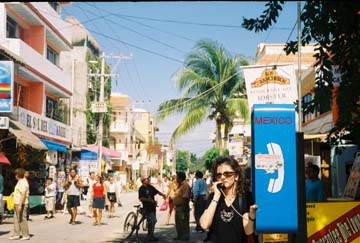 Kim calling our Ministry Office in Tulsa, USA. Enjoying the Carribean.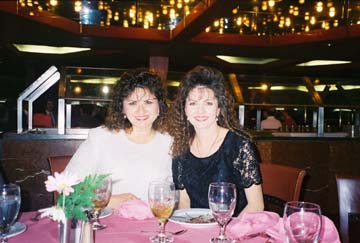 Robin and Kim at the Captain's Dinner (drinking Tea!). Enjoying our Tour Group Friends at the Captain's Dinner.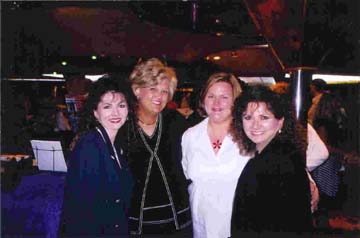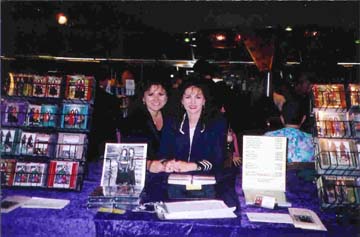 Us, LaReesa Trammell & Shawn Smith (Mark Trammell Trio) Robin and Kim at the Tape Table.
>
Laughing with the Dawson's! (Heirline Music Ministry) Riding the Tender back to the Ship.
Getting ready to board from Cozumel, Mexico. Kim and the big Ships.
With our Friends from our Tour Group. Our Tour Group's all smiles another night at Dinner!
Singing the Glory down the last night aboard! Packing up the Equipment (about 12:30 AM) the last night.
Enjoying breakfast aboard the last day just before disembarking, then ashore, we found a Porter to help with all the equipment!
While Kim waited with the equipment for Robin to go get the vehicle,
she visited with Oklahoma friend Mrs Scoles (who was part of our Tour Group)

All items on this web site are the sole property of Robin & Kim Rhoades ©1998-2009 and may not be used without permission. Webmaster Rhoades Ministries