Merry Christmas and Happy New Year from our Hearts to Yours!

Robin, Betty, Bob and Kim Rhoades
Our Parents, Rev. and Mrs. Bob Rhoades, join us in wishing you a very Merry Christmas and a prosperous and blessed New Year!
Thank you for standing with us as we continue to take the Gospel of our Lord Jesus to the world!
Below are a few pictures of a recent Service our Family did ministering to Bible School students telling all about our lives in Ministry.
(Note: This exciting service with powerful testimonies of our "life on the road" will be available on Video and DVD soon!)

Above: Dad (left) sharing a testimonty after being introduced by Bible School President, Ron McIntosh (right).

Before we both took our turns to speak, we shared the Gospel in song.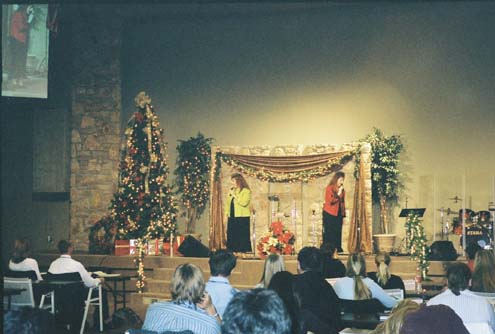 Merry Christmas and Happy New Year!
All items on this web site are the sole property of Robin & Kim Rhoades ©1998-2009 and may not be used without permission. Webmaster Rhoades Ministries